Trooper Ross S. Creach -- Badge #58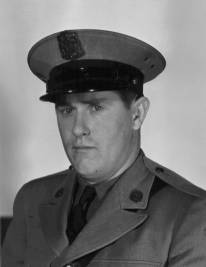 On Sunday, December 12, 1943, two days before his first anniversary on the Patrol, Tpr. Creach was directing traffic as a trucking company attempted to remove a trailer from the ditch on U.S. Highway 36, five and one-half miles west of Shelbina, Missouri, in Shelby County. The trailer had been pulled from the ditch and was on the westbound lane with tractor trailers in front and behind the disabled trailer. Tpr. Creach stood on the eastbound lane with a flashlight accompanied by a truck driver, who also had a flashlight.
Lighted flares marked each end of the line of trucks to caution oncoming traffic. At approximately 8 p.m., a westbound vehicle approached at a high rate of speed. Tpr. Creach began waving his flashlight to signal the driver to slow down. As the vehicle approached, the truck driver ran from the roadway. Tpr. Creach was struck by the passing car and killed instantly. His body came to rest under the disabled trailer. The westbound vehicle continued after the impact with Tpr. Creach and turned around in the ditch past the western-most tractor. The driver, Theodore Roosevelt Kendrick, exited his 1936 Ford Roadster, which bore the evidence of the impact with the young trooper, and approached the group of truck drivers who had been working at the scene. The drivers described Kendrick as intoxicated and wanting to fight. Kendrick stated that he had been drinking on Saturday and Sunday, and could not remember anything from the time he left a tavern in Shelbina, until he was told he had killed Tpr. Creach. Kendrick was sentenced to four years in prison.
Trooper Ross S. Creach, 24, was the fifth trooper to be killed in the line of duty. He survived by his wife, two-year-old son, and a second son born several weeks after his death.