Trooper Robert J. Kolilis -- Badge #353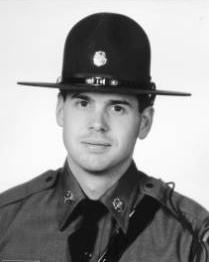 Trooper Robert J. Kolilis died on September 21, 1988, as a result of injuries sustained when he was struck by a pickup truck on Missouri Route M in Washington County near Irondale, Missouri.
The traffic crash occurred at approximately 7:30 p.m. Two vehicles were stopped along the two lane road with one vehicle parked approximately two feet into the traveled portion of the road. Tpr. Kolilis apparently stopped to render assistance or to determine why the vehicle was parked partially on the roadway. The drivers of both vehicles were standing in the roadway to the left of the patrol car, which was stopped in the eastbound lane of Route M. Tpr. Kolilis had exited the patrol car and was standing at or near the center of the roadway. The patrol car's headlights were on. A pickup truck, driven by a 16-year-old male, was traveling westbound and did not see Tpr. Kolilis standing in the roadway. The left front fender of the pickup struck Tpr. Kolilis. Tpr. Kolilis was taken to Washington County Memorial Hospital where he died as a result of his injuries at 9:30 p.m.
Trooper Robert J. Kolilis, 24, was the 16th member of the Patrol to die in the line of duty. He was survived by his wife.