Trooper Kelly L. Poynter -- Badge #1191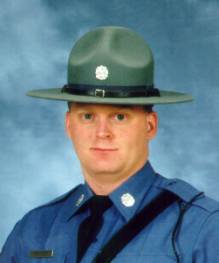 Trooper Kelly L. Poynter was killed on January 18, 2002, while working a traffic crash on U.S. Highway 63 in Texas County, two miles south of Houston, Missouri. While Tpr. Poynter was investigating the initial crash, another vehicle struck and killed him, and injured a wrecker driver. The driver of the vehicle that struck Tpr. Poynter was intoxicated and driving at a high rate of speed. She was arrested and charged with involuntary manslaughter. The suspect was sentenced to seven years, but released after serving only 120 days for completing an alcohol treatment program.
Trooper Kelly L. Poynter, 27, was the 22nd member of the Missouri State Highway Patrol to lose his life in the line of duty. He was survived by his wife and two young children.