Sergeant Benjamin O. Booth -- Badge #13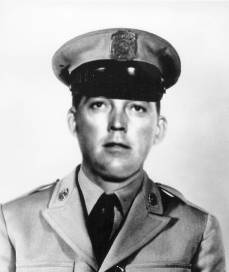 Sergeant Benjamin O. Booth, an original member of the Missouri State Highway Patrol, was fatally shot on June 14, 1933. After a bank in Mexico, Missouri, was robbed, roadblocks were set up to catch the perpetrators. Sgt. Booth was called to work on his day off to man a roadblock at the intersection of U.S. Highway 40 and U.S. Highway 63, just north of his residence in Columbia, Missouri. Boone County Sheriff Roger Wilson joined Sgt. Booth at the roadblock.
At the roadblock, Sgt. Booth approached a 1932 Ford V-8 Coupe on the passenger side. As he tried to open the door, Sgt. Booth was shot in the left leg by the passenger.
Sheriff Wilson approached the car and fired once, but was killed by a shot to the head through the windshield. As Sheriff Wilson was shot, Sgt. Booth had pulled the passenger from the vehicle and was struggling with him. The driver ran around and shot Sgt. Booth in the back, causing Sgt. Booth to release his grip. To ensure Sgt. Booth's death, the passenger returned to the car, got his weapon, held it against Sgt. Booth's prone body, and fired again. The two weapons used on Sgt. Booth and Sheriff Wilson were a .38-caliber revolver and a .45-caliber, semi-automatic pistol. Witnesses at the scene were able to obtain a partial license number on the vehicle as it fled east from the scene. Sgt. Booth was transported to the hospital by patrol car. Reportedly, he was able to push himself up in the seat with his elbow as he was driven past his residence.
The Booth children had been playing in the yard the day of their father's murder, and saw and heard the emergency equipment move into and out of the area. Sgt. Booth died en route to the hospital.
Also killed in the incident was Boone County Sheriff Roger Wilson, grandfather of former Missouri Governor Roger Wilson.
The two murderers escaped after killing Sgt. Booth and Sheriff Wilson; a 17-month investigation by law enforcement officials followed. Finally, Francis McNeily, who was a known outlaw, told officers about shooting Sgt. Booth and Sheriff Wilson and implicated George McKeever. McKeever was located in the South Dakota State Penitentiary. McNeily was convicted of killing Sheriff Wilson and received a penitentiary sentence. McKeever was convicted of murdering Sgt. Booth and was hanged in Fulton, Missouri, on December 18, 1936. Neither McNeily nor McKeever was involved in the Mexico bank robbery.
Sergeant Benjamin O. Booth, 35, was the first member of the Missouri State Highway Patrol to be killed in the line of duty. He was survived by his wife, a 7-year-old daughter, and an 8-year-old son.