Sergeant David C. May -- Badge #873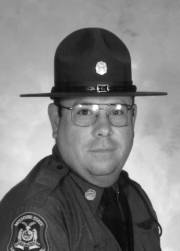 Sergeant David C. May was killed in a helicopter crash on May 17, 1999, in Poplar Bluff, Missouri, in Butler County. Sgt. May was piloting the Patrol's helicopter 77MP and died upon impact. The helicopter crashed behind the Union Planter's Bank after Sgt. May diverted the stricken helicopter away from homes, businesses, and pedestrians in the area. This last heroic act of Sgt. May averted an even larger catastrophe. Photographer Ricky Wayne Gunnels Jr., 22, of Dexter, was a passenger in the aircraft and also died as a result of the injuries he sustained in the crash. Sgt. May and Mr. Gunnels were on a photo flight mission for Special Olympics Missouri at the time of the crash.
Sergeant David C. May, 41, was the 19th member of the Missouri State Highway Patrol to be killed in the line of duty. He was survived by his wife and two young daughters.