Trooper Donald K. "Kevin" Floyd -- Badge #394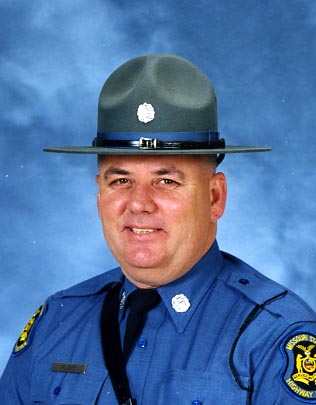 Trooper Donald K. "Kevin" Floyd was killed in the line of duty September 22, 2005. Tpr. Floyd was struck by a vehicle on U.S. Highway 60 in Texas County, approximately one mile east of Missouri Route MM, at 12:21 p.m. He was airlifted by Hammons Lifeline to St. Johns Hospital in Springfield, Missouri, where he succumbed to his injuries at 1:33 p.m.
Tpr. Floyd was working speed enforcement with one of the Patrol's aircraft, and had stopped an eastbound vehicle for a traffic violation. Tpr. Floyd had made contact with the driver of the vehicle and had turned to return to his Patrol vehicle when he was struck by a pickup truck traveling east on U.S. 60.
The driver of the vehicle which struck Tpr. Floyd, pled guilty to a class D felony of second-degree manslaughter. A two-year prison sentence was suspended; he was sentenced to four years probation, 200 hours of community service, and fined $5,000.
Trooper Donald K. "Kevin" Floyd, 45, was the 27th member of the Missouri State Highway Patrol to make the ultimate sacrifice while serving and protecting the citizens of Missouri. He was survived by his wife, a 19-year-old son, and a 16-year-old daughter.