Trooper Fred L. Walker -- Badge #126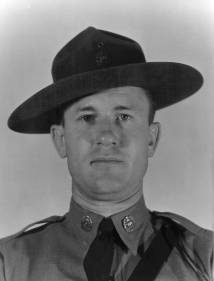 Trooper Fred L. Walker, 33, was shot on December 3, 1941, near Ste. Genevieve, Missouri. Tpr. Walker stopped a newer model car near Bloomsdale in St. Genevieve County. Unbeknownst to him, the vehicle had been stolen near Bonne Terre. The occupants of the car, George Alvin King, 17, and Norman Votaw, 20, both of Centralia, Illinois, were quickly handcuffed by Tpr. Walker and placed in his patrol car for transportation to Festus, Missouri, approximately 25 miles away. Less than one-half mile into the trip one of the prisoners drew a concealed pistol and shot Tpr. Walker.
The subjects threw Tpr. Walker from the patrol car and took his service revolver. They fled south in Tpr. Walker's patrol car. Tpr. Walker crawled part of the way to a farm near where the stolen vehicle had originally been stopped, and was transported in the stolen car by the owner of the farm, George Long, to Crystal City, Missouri. Tpr. Walker told Long that he had been shot with a gun he had missed on the two subjects.
Tpr. Walker was transported by ambulance from Crystal City to Barnes Hospital in St. Louis. Less than an hour after the shooting Tpr. Walker's patrol car was recovered abandoned with his Patrol issued shotgun and rifle still in the vehicle. An intense 20-hour manhunt resulted in the capture of the two killers in Perryville, Missouri, just prior to Tpr. Walker's death. The suspects confessed their crime, but initially stated Tpr. Walker had been accidentally shot in a scuffle for his revolver. They later admitted that they decided to, "fight it out and escape using a gun Tpr. Walker had overlooked in searching." On January 17, 1942, King and Votaw were each sentenced to 99 years in prison after they pleaded guilty to second degree murder.
Tpr. Fred L. Walker died in a St. Louis hospital about three hours after his killers were captured.
Trooper Fred L. Walker, 33, was the second officer to die in the line of duty.