Patrol Thanks Schwieder Ford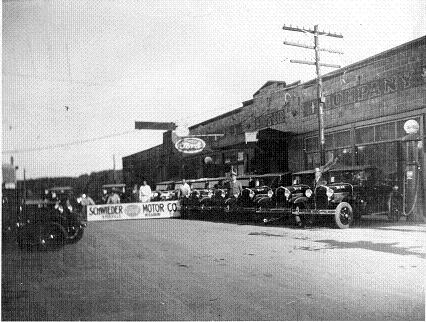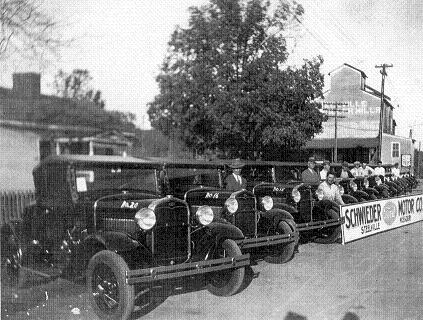 (1931 Model A Ford Roadsters lined up in front of Schwieder Ford in Steelville, MO. In the picture on the right, the gentleman near the center of the picture between the second and third vehicles is George Schwieder, owner of the dealership)
On Thursday, February 2, 2006,Captain Dale Schmidt, commanding officer of Troop F, Jefferson City, and Captain Randy Becker, commanding officer of Troop I, Rolla, presented a Certificate of Appreciation to Kim Schwieder, owner of Schwieder Ford in Steelville, MO. As part of the Patrol's 75th anniversary celebration, the Patrol recognized Schwieder Ford for being the car dealership that sold the Patrol its first cars in 1931. After 87 years, Schwieder Ford is closing its doors. The business will serve customers through March 2006. Originally named Steelville Garage when it opened in 1918, it was renamed by its owners to Schwieder Ford in 1931.
"It has been seventy-five years since those first, two-seat Fords were purchased by the Patrol and Schwieder Ford played a significant part in establishing our fleet for us," said Colonel Roger Stottlemyre, superintendent of the Patrol. "From those humble beginnings of thirty-six Ford Roadsters, we now have a fleet of Patrol cars that is one of the finest in the nation. I want to thank the Schwieder family and everybody who is associated with Schwieder Ford for being part of our proud history."
(The Patrol's restored 1931 Model A Ford Roadster -- known as "Otto" -- sits in front of the dealership where it originally started its career with the Patrol. Kim Schwieder and his brother accept the Certificate of Appreciation from Captain Schmidt, left, and Captain Becker, right.)
In 1931, the motor vehicle fleet for the first troopers consisted of 36 Model A Ford Roadsters, a Ford sedan, a Plymouth sedan, an Oldsmobile, a Buick, three Chevrolets, and 12 Harley Davidson, three Indian, and two Henderson motorcycles. Schwieder Ford sold the Patrol the Model A Ford Roadsters for $413.18 each. Each vehicle had twin Klaxon horns, a spotlight, a fire extinguisher, a first aid kit, and an electric "Patrol" sign behind the right side of the windshield. All vehicles had license plates with the words "State Patrol" in bold letters, but there were no decals on the sides. None of the vehicles had sirens and there were no heaters in the cars. In 1931, Colonel Lewis Ellis wanted the public to be aware that these drivers were officers of the newly created Missouri State Highway Patrol, thus, those driving Roadsters were instructed to drive with the top down except in inclement weather. One of the original Model A Ford Roadsters, which is housed in the Patrol's Safety Education Center, was on display during the presentation.