Information & Communications Technology
In September 2011, the Missouri State Highway Patrol command staff
integrated the Communications Division and the Information Systems Division to create the Information & Communications Technology Division. The technical knowledge requirements for the two divisions has become more and more similar over the last several years and many of the same networks providing various Patrol services were shared. ICTD continues to manage the same systems and projects as the two divisions did previously. The integration has resulted in advancement of services provided to customers throughout the Patrol. The division is moving forward to meet future technological challenges.
Communications Section With more than a 70 year tradition of excellence, the communications section maintains and operates a 24-hour communications network covering the nine troop headquarters located throughout the state. Work within the communications section of ICTD is never dull and each day brings new situations. Our operators come from diverse backgrounds and we strive to enable growth in interests such as training and electronics. As a primary user and coordinating agency in the Missouri Statewide Interoperability System (MOSWIN), the communications section is a vital partner in this intricate system networking state, county, and local agencies.
Information Technology The Information Technology sections develop and operate computer systems for criminal justice agencies at both state and local levels of government. Our Information Technologist provide mainframe data processing facilities to all divisions of the Department of Public Safety and Corrections. We manage all distributed processor services and network support to the nine troops and all divisions of the Highway Patrol. Working within the information technology section of ICTD affords an active work environment dealing with not only customer service and support, but also application development, GIS integration, project management, statistical analysis, and system networking.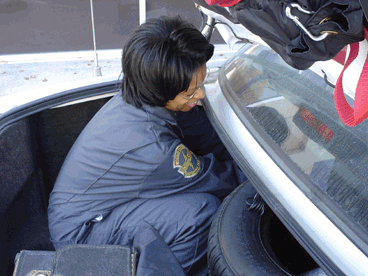 Staff
Division Director
Captain Vernon C. Dougan


Assistant Director
Lieutenant Les Thurston


Assistant Director
Communications Section
Corey Chaney


Assistant Director
Infrastructure & Customer Support Section
Steven White


Assistant Director Application Development Section
Larry Lueckenhoff


Contact Information

Communications