Job Fairs/Recruiting Events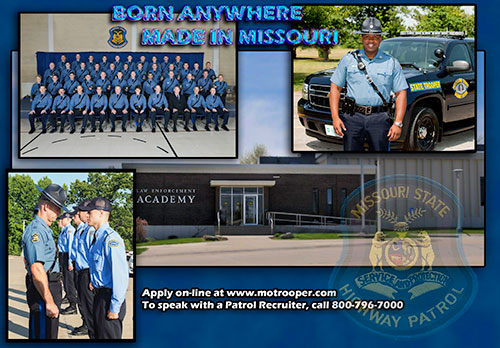 Come out and meet Recruiter Corporal Tony Sandoval for the Missouri State Highway Patrol Central / Southwest Region. He is responsible for recruiting activities in Troop D, Springfield and Troop I, Rolla. See schedule of Job Fairs and Recruiting Events below.
NOTE:* Events on Military Bases are only opened to military personnel. Some colleges and universities do not open their events to the public. Contact your local recruiter before attending the event.
Job Fairs & Recruiting Events for Central and Southwest, Missouri
Recruiter
Events
Location
Dates
Corporal Tony Sandoval

Please contact me if you have any questions.

417-359-1500 Ext. 4568

or

1-800-796-7000 Ext. #4

antonio.sandoval@mshp.dps.mo.gov

Troop D Service Center

5182 South Grand Avenue

Carthage, MO

Corporal Tony Sandoval

119th & 120th Trooper Selection Process

(Must Apply On-Line)

Troop D Headquarters

3131 East Kearney Street

Springfield, MO

Friday

August, 25, 2022

8:30 AM

Corporal Tony Sandoval

Festival of Nations

Sacred Heart Church

1609 N. Summit Ave.

Springfield, MO

Saturday

August 26, 2023

5:00 PM- 9:00 PM

Corporal Tony Sandoval
Transition Assistance Office (TAP) Visit

TAP Office

Building 470, Suite 2218H

13486 Replacement Avenue

Fort Leonard Wood, M

Monday

August 28, 2023

10:00 AM - 12:00 PM

Corporal Tony Sandoval

Missouri Southern State University

Law Enforcement Center Career Fair

Mills Anderson Justice Center

3950 Newman Rd.

Joplin, MO

Wednesday

August 30, 2023

12:00 PM- 2:00 PM

Corporal Tony Sandoval

121st Trooper Selection Process

(Must Apply On-Line)

Troop I Headquarters

1301 Nagogami Road

Rolla, MO

Wednesday

September 6, 2023

9:00 AM

Corporal Tony Sandoval

Southwest Baptist University

Career Fair

1600 University Ave.

Bolivar, MO

Friday

September 8, 2023

9:00 AM - 1:00 PM

Corporal Tony Sandoval

Military Police Expo

Ft. Leonard Wood

Nutter Field House

Wednesday & Thursday

September 13 & 14, 2023

8:00 AM - 4:00 PM

Corporal Justin

Henderson

College of the Ozarks

Career Fair

Keeter Center

100 Opportunity Avenue, Point Lookout, MO

Friday

September 15, 2023

10:00 AM - 2:00 PM

Corporal Tony Sandoval
Cultural Festival

1530 South Glenstone Avenue

Springfield, MO

Saturday

September 17, 2023

2:00 PM - 7:00 PM

Corporal Tony Sandoval

Missouri State University

Criminal Justice Open House

Palster Student Union

1110 S. Madison St.

Springfield, MO

Monday

September 18, 2023

11:00 AM - 12:00 PM

Corporal Chad Barclay
Lebanon High School Career Fair

777 Brice Street

Lebanon, MO

Wednesday

September 20, 2023

1:00 PM – 3:00 PM

Corporal Tony Sandoval

Missouri State Highway Patrol

Career Expo

MSHP General Headquarters

Jefferson City, MO

Thursday

September 21, 2023

10:00 AM - 6:00 PM

Corporal Tony Sandoval
Transition Assistance Office (TAP) Visit

TAP Office

Building 470, Suite 2218H

13486 Replacement Avenue

Fort Leonard Wood, MO

Monday

September 25, 2023

10:00 AM - 12:00 PM

Corporal Tony Sandoval

121st Trooper Selection Process

(Must Apply On-Line)

Troop D Headquarters

3131 East Kearney St.

Springfield, MO

Friday

September 29, 2023

8:30 AM

Corporal Tony Sandoval

121st Trooper Selection Process

(Must Apply On-Line)

Troop I Headquarters

1301 Nagogami Road

Rolla, MO

Friday

October 20, 2023

9:00 AM

Corporal Tony Sandoval
Transition Assistance Office (TAP) Visit

TAP Office

Building 470, Suite 2218H

13486 Replacement Avenue

Fort Leonard Wood, MO

Monday

October 23, 2023

10:00 AM - 12:00 PM

Corporal Tony Sandoval

121st Trooper Selection Process

(Must Apply On-Line)

Troop D Headquarters

3131 East Kearney St.

Springfield, MO

Friday

October 27, 2023

8:30 AM

Corporal Tony Sandoval

121st Trooper Selection Process

(Must Apply On-Line)

Troop I Headquarters

1301 Nagogami Road

Rolla, MO

Thursday

November 16, 2023

9:00 AM

Corporal Tony Sandoval

121st Trooper Selection Process

(Must Apply On-Line)

Troop D Headquarters

3131 East Kearney St.

Springfield, MO

Saturday

November 18, 2023

8:30 AM

Corporal Tony Sandoval
Transition Assistance Office (TAP) Visit

TAP Office

Building 470, Suite 2218H

13486 Replacement Avenue

Fort Leonard Wood, MO

Monday

November 27, 2023

10:00 AM - 12:00 PM

Corporal Tony Sandoval

121st Trooper Selection Process

(Must Apply On-Line)

Troop I Headquarters

1301 Nagogami Road

Rolla, MO

Friday

December 1, 2023

9:00 AM

Corporal Tony Sandoval

121st Trooper Selection Process

(Must Apply On-Line)

Troop D Headquarters

3131 East Kearney St.

Springfield, MO

Friday

December 8, 2023

8:30 AM

Corporal Tony Sandoval
Transition Assistance Office (TAP) Visit

TAP Office

Building 470, Suite 2218H

13486 Replacement Avenue

Fort Leonard Wood, MO

Monday

December 14, 2023

10:00 AM - 12:00 PM