Job Fairs/Recruiting Events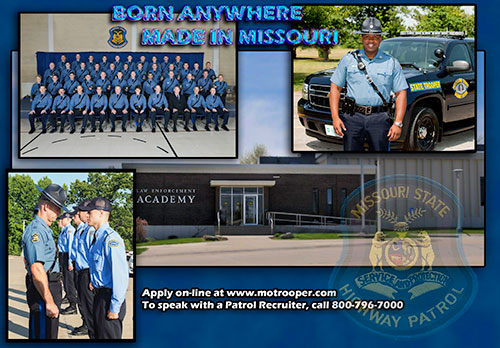 Come out and meet Recruiter Sergeant Brad Haggett for the Missouri State Highway Patrol Southeast and South Central regions. He is responsible for recruiting activities in Troop E, Poplar Bluff and Troop G, Willow Springs. See schedule of Job Fairs and Recruiting Events below.
NOTE:* Events on Military Bases are only opened to military personnel. Some colleges and universities do not open their events to the public. Contact your local recruiter before attending the event for the Central and Southeast Region.
Job Fairs/Recruiting Southeast and South Central Missouri Events
Recruiter
Events
Location
Dates
Sergeant Brad Haggett
119th / 120th Trooper Selection Process

Applicant Testing Information

david.haggett@mshp.dps.mo.gov

573-707-1346

Call or e-mail
Sergeant Brad Haggett
119th / 120th Trooper Selection Process

Applicant Testing Information

david.haggett@mshp.dps.mo.gov

573-707-1346 (applicants must register online prior to testing)

Troop E Headquarters

Poplar Bluff, MO

August 31, 2023

8:00 A. M.

Sergeant Brad Haggett

Missouri State Highway Patrol

Career Expo

General Headquarters

Jefferson City,

MO

September 21, 2023

10:00 - 6:00 PM

Sergeant Brad Haggett

Trooper Gillespie

Trooper Collins

University of Pine Bluff

Fall Career Fair

1500 L. A. Prexy Davis Drive

Pine Bluff, AR

October 04, 2023

10:00 - 1:00 PM

Sergeant Brad Haggett

Fort Campbell, Transition Assistance Program

Fall Career Fair

Cole Park Commons

Fort Campbell, KY

October 17, 2023

10:00 AM - 2:00 PM

Sergeant Brad Haggett

121st Trooper Selection Process

Applicant Testing Information

david.haggett@mshp.dps.mo.gov

573-707-1346 (applicants must register online prior to testing)

Troop E Headquarters

Poplar Bluff, MO

October 23, 2023

8:00 A.M.
Sergeant Brad Haggett

121st Trooper Selection Process

Applicant Testing Information

david.haggett@mshp.dps.mo.gov

573-707-1346 (applicants must register online prior to testing)

Troop G Headquarters

Willow Springs, MO

October 25, 2023

8:00 A.M.
Sergeant Brad Haggett

121st Trooper Selection Process

Applicant Testing Information

david.haggett@mshp.dps.mo.gov

573-707-1346 (applicants must register online prior to testing)

Troop G Headquarters

Willow Springs, MO

November 03, 2023

8:00 A.M.
Sergeant Brad Haggett

121st Trooper Selection Process

Applicant Testing Information

david.haggett@mshp.dps.mo.gov

573-707-1346 (applicants must register online prior to testing)

Troop E Headquarters

Poplar Bluff, MO

November 04, 2023

8:00 A.M
Sergeant Brad Haggett

121st Trooper Selection Process

Applicant Testing Information

david.haggett@mshp.dps.mo.gov

573-707-1346 (applicants must register online prior to testing)

Troop G Headquarters

Willow Springs, MO

December 02, 2023

8:00 A.M
Sergeant Brad Haggett

121st Trooper Selection Process

Applicant Testing Information

david.haggett@mshp.dps.mo.gov

573-707-1346 (applicants must register online prior to testing)

Troop E Headquarters

Poplar Bluff, MO

December 08, 2023

8:00 A.M